Written by Roberto Castiglioni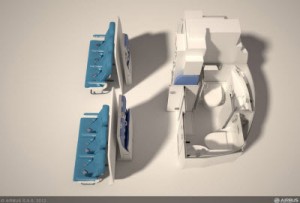 Our recent visit at the Paris Air Show focused on spotting innovative solutions enhancing aircraft accessibility thus improving in-flight comfort for passengers with reduced mobility.
Producing almost half of the world's commercial airliners, Airbus recently introduced a revolutionary concept that will significantly improve quality of air travel for passengers who need an on board wheelchair to move about the cabin and make use of the on board toilet.
Modern long haul aircraft are usually equipped with accessible toilets; however, single aisle short haul aircraft do not have such feature, making the use of toilets very difficult.
"I am unable to get to, let alone get in the toilets and so I limit liquid intake. I sometimes use my toilet bottle or leg bag, but neither is ideal," Martyn Sibley, who suffers from Spinal Muscular Atrophy, recently told us.
Starting this fall Airbus will begin deliveries of aircraft of the A320 family equipped with the revolutionary Space-Flex lavatory, an innovative solution that will radically improve the in-flight experience for passengers like Martyn.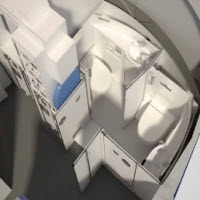 To fit the Space-Flex toilet the rear of the aircraft has been reconfigured, with existing lavatories moved to the rear end of the aircraft.
The two toilets, each of a size comparable with those existing in the A320 family of aircraft, become one through a simple process of conversion: two Space-Flex toilets can be converted into one space for persons of reduced mobility, in a similar way to those used in wide-body Airbus aircraft.
This solution foresees different options to fit the needs of all Airbus customers, even low cost airlines. By selecting additional galleys with different capacity on the right hand side before the aft door, an airline would gain three additional seats. However, without any galley before door four, the gain could be as high as six additional seats.